The Hotel
Ideally situated in the historical center of Beaune
Location
The Abbaye de Maizières **** is ideally situated in the old part of Beaune, a picturesque town, in a pretty cobbled street (one-way street with no parking facilities, see below). The famous Hospices, the Notre-Dame Basilica, the Hotel of the Duke of Burgundy ( Wine Museum), the shopping streets, the restaurants and wine-bars , they are all next to the Hotel.
Parking Informations : click on READ MORE +
PARKING:
- "République" car park (public and free) 100 meters from the hotel, boulevard Clémenceau (47.024656, 4.833487).
- Valet service (25€/car/day) !!! NOT AVAILABLE DURING THE PANDEMIC !!! reservation service, pick up and drop off between 8:00 am and 10:00 pm, secure parking.
Read more
Less
GENERAL TERMS AND CONDITIONS OF SALES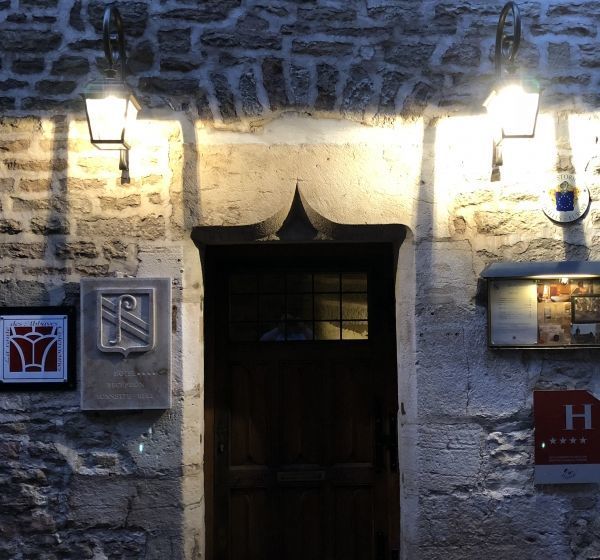 L'Abbaye du Petit Maizières
Next to the magnificent entrance boasting cistercian stained glass windows, behind a medieval door hides a treasure : 900 years of history, 1000 square meters of time traveland and 8 rooms, 5 suites.
The Abbaye de Maizieres is a discreet, confidential, almost invisible place, and reveal all its advantages once you trough the door : its vaulted cellar, ancients roman walls ( IIIe s.) stone vault door, spiral staircases,....It's took nearly 4 years for Bruno Epailly and his Wife Emmanuelle to renovate this ancient Cistercian Abbey and transform it in a beautiful deluxe boutique Hôtel.
Read more
Less
GENERAL TERMS AND CONDITIONS OF SALE